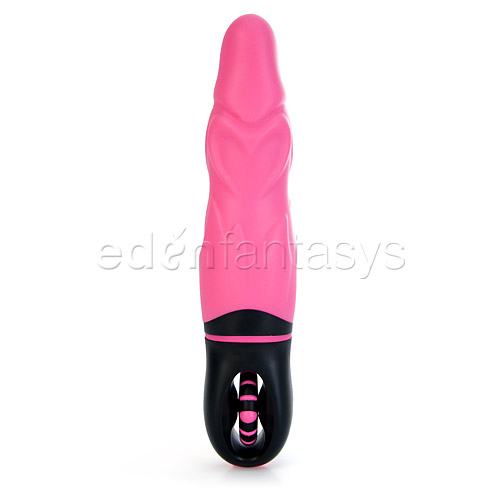 Do you love to gamble; well this is a game that you don't have to worry about losing. The High Roller is one of eight in the Roulette series, and all of the toys are made of European silicone, and all the machinery is all European, as while. They all have different textures and are different colors.
The high roller by Evolved is a vibrating dildo. It stimulates the clit and the g-spot. It is also great for thrusting, beca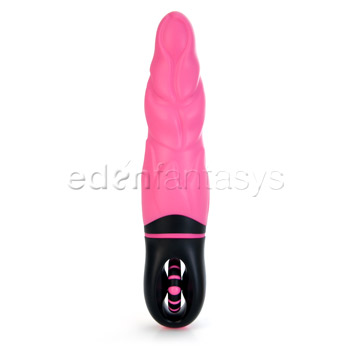 use of the soft silicone, in which it is made of. This is a great toy for beginners and advanced users. This toy is great for solo uses, and with a partner in any room in the house. The high roller takes 2 AA batteries. To open the bottom, you twist it to the left and to put it back on you twist it to the right. There is a diagram on the shaft of the toy in which tells you which way the batteries go in.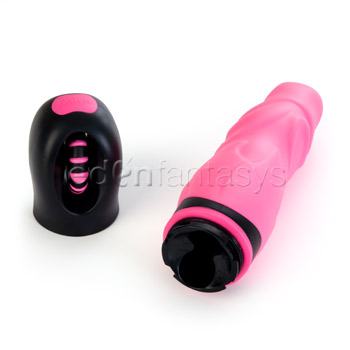 There is no odor or taste to this toy, which is great. This toy is made of a pink silicone, which is non-porous, latex-free, phthalates-free, and hypo-allergenic. The texture is both smooth and ribbed, but you can't really feel it at all. You do notice the girth increasing, which feels amazing. This toy is good for beginners, because of how smooth it is and the how the girth increasing. I believe this will give them an idea of what they like in size and length.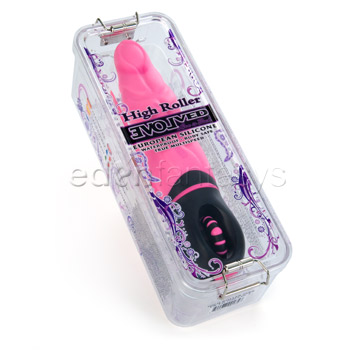 The high roller is a well crafted toy. All in all, this toy is 8" in length and has an insert able length of 5". This toy is works great for any body type, because it conforms to it. With the size in mind, this toy is great for the more advanced users. This toy is ok to hide, if you have a spot for all of your toys. The bright pink does make it stand out very well, so this isn't a very discreet toy. As for travel, I believe this is a toy you may want to live at home.
The high roller is a very powerful, multispeed vibrator. The vibration motor is located in the middle of the toy, but can be felt all throughout the shaft. The control is a wheel located at the very bottom of the toy. You just the wheel control up and down to find the best speed for you. This toy is very quiet, which is great when you don't live alone. This baby is waterproof, and works awesome. I haven't had any trouble at all, even in a bath full of water. You just need to remember to tighten the cap as much as you can.
Because this toy is made with silicone you will want to stick with water based lubes. Silicone based lubes on silicone toys can ruin them, and you do not want to ruin your pretty High Roller. With it being waterproof cleaning is a bit easier. Use some soap and water before and after each use. It does pick up some fuzz so you'll want to make sure that you do clean it before and after to get it clean before use too. Storage is a cinch because it comes in an awesome plastic box that can be reused for storage and is very durable. You can even use it for other silicone toys as while. The box doesn't take up too much room in a drawer. I believe everyone will enjoy this toy and all the rest in the collection. If you don't have this toy or any of the others, you should buy them all (if possible).




Traditional vibrator by Evolved

Material: Silicone / Plastic

Safety: