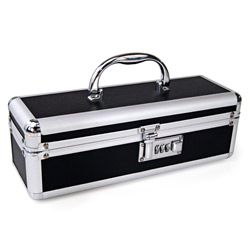 I have been looking for a toy box for a very long time and everything I found was either to small or out of my price range. Then I found this cute box, but it wasn't what I was looking for, size wise. Don't get me wrong, I loved this box; just all of my toys wouldn't fit. I even tried just putting in the ones that are small. So, I decided to give the box to my little sister, who only has a few toys, which are all small, for her 20th birthday. The lockable storage box works well, if you have a small collection, or a lot of clitoral toys. You could even use this box for you expensive jewelry, if you would like. You would never really have to worry about someone see them and stealing them. You could also use as a make-up case for traveling or just use it as a toy traveling case all together. Not always do you want to take all of your collection with you for a over night trip or even a week trip.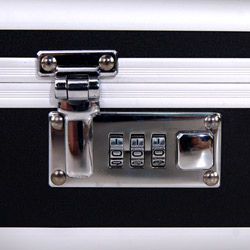 I tried to place all my toys in this box and I could not seem to find a good way for all them to fit. Now, my sister can fit all of her toys in there; which is about 10 toys, and she seems to have a little room to put one or more in there. Most of my toys are over 7inches long and about 2 inches around and I could only seem to fit 4 or 5 toys in there. Also, all her toys are the same material, which I believe is safe to put together, and most of mine are different and a lot of them can't be near each other. That is another reason I gave the box to her. The look of the box is great with any decor in your bedroom, bathroom, or even living room if that is what you like. Most people will just think it is a make-up case. When I first opened the box, my mom said, 'That is weird for a sex website to sell something meant for something non-sexual', and then she read the label on the case and felt a little silly.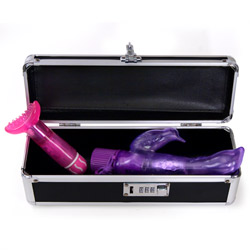 This box is made of metal on the outside and vinyl on the inside. It has a 12" in length, 4" wide, and 4" high. The whole box is non-porous, phthalates free, latex free and made of food-grade material. The lock is metal also. The one thing is silly, to me, is that the paper to tell you how to open the box and to change the code is INSIDE THE BOX. This is a stupid system; why not put it on the back of the label or something. Cleaning this box can be a little hard. The outside is made of metal and vinyl, so you can just wash down with soap and water or even with your toy cleaner and a soft cloth. Now the inside is the hard part, because it is made of Suede. Suede can become dirty very easily and become stained. When it comes wet, it turns darker and can become damaged easily. Also, water drives out the essential oils that keep suede leather supple. So, to clean suede you will need to use special suede cleaners and do so carefully.
I recommened this box to every person out there who is looking for storage for there small collection, growing collection. You can even use this box for non-sexual reasons too; such as, for make-up and/or jewelry. No matter what your personal use is for this box, it would be great for you.