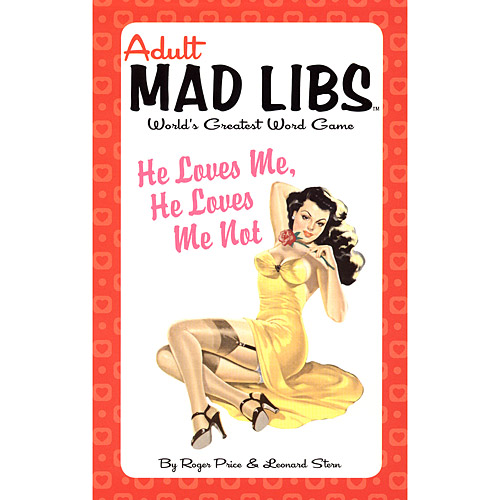 Do you ever remember doing Mad Libs when you were in school? Well now they have versions for ADULTS!!!! YEAH, WE CAN BE KIDS AGAIN!!!! The Adult mad libs are just like the ones when we were kids; fill in the blanks with a noun, plural noun, verb, adverb, adjective, etc. Just remember, DON'T PEAK AT THE STORY!!!! That would just ruin the whole idea.
This mad lib is called, "He loves me, He loves me not". The stories are all about love, and Valentines Day, weird. There are a total of 23 game pages and total of 25 pages in the whole book. In the back of the book, there is a card board page for you on the go. After the title page, it gives you brief instructions, and the next page gives you a quick review on what a noun, adverb, etc means.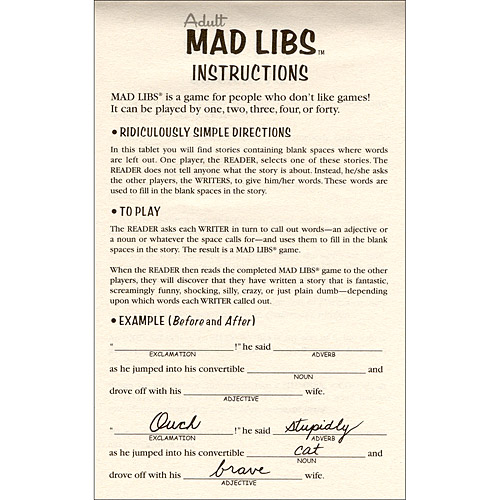 This is my first purchase from Eden Fantasys, and I love it. Mad Libs are just so much, and I was excited to see that they had an adult version. When I first opened the package, I just couldn't wait to pick up a pen and start filling in the blanks, but when I finished the first one, I was a little disappointed. I was expecting the book to be a little more, um, Adult. I guess that I don't really have a good mind for dirty words when I need them on the spot, but just the stories themselves aren't like R rated or even X rated. So these books are actually safe to give your child. Which can be a good thing; like on a long road trips, this books should keep them entertained for a few hours. I recommend this book for anyone who enjoys word puzzle/games, who has a dirty mind (everyone), and/or those who have children. This books is just great fun alone, with friends, or just you and your partner. You will just laugh at all the things you come up with.